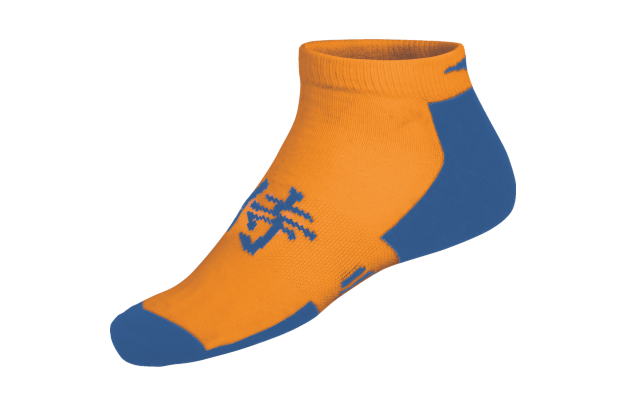 So, about a month ago, I was in the market for some new running socks.  I've tried Swiftwick with OK results.  I've tried LIN Socks, and those are pretty good.  I was browsing the Running Warehouse website, and I came across these little beauties, the Mizuno Samurai socks (pictured above), and I was hooked.  I ordered 2 pairs.  These are the best socks I've ever worn.
There is not too much you can write on a review for a sock; however, I had to put something together for these socks.
Here are some product features from the Mizuno Website:
MATERIAL:
• 83% Polyester, 14% Nylon, 3% Spandex
FEATURES:
• Seamless Toe
• DYNAMOTION FIT
• Mesh venting
• Arch Support
Here is a description of the DYNAMOTION FIT:
Combination of shoe technologies that create an upper that moves with your foot seamlessly throughout your stride, eliminating stress points and bunching for a more comfortable run.
That last little piece of that descriptions really gets me, "FOR A MORE COMFORTABLE RUN".  Wow, are they right.
The fit of the socks is incredible.  Snug in all the right places with the right amount of support where needed.  My feet felt like they were in clouds (if socks can really do that).  The best thing about these socks is that they are seamless in the toe box section, so there is no rubbing, no discomfort, and absolutely great fit.  I would have to say that it has to do with the Dynamotion fit being like the shoe fit where it moves with your foots movements.  It is quite incredible.
They do offer these socks in an assortment of colors, but for me, the orange/blue combination is quite to my liking, and are my preferred sock.  I highly recommend these socks!!
Pro's of the Mizuno Samurai:
Incredible Comfort
Nice Assortment of Colors (my choice is the orange/blue combination)
Great Technology with the Dynomotion
Low Cut/No-Show Socks (if you prefer that style)

Con's of the Mizuno Samurai:
The only Con is that I wasn't smart enough to purchase more of these socks when I initially ordered them.  2 pairs of socks is just not enough!!!!
I appreciate you all taking the time to read my thoughts.