http://www.mizunousa.com/running
http://www.facebook.com/MizunoRunningNorthAmerica
As runners, it seems like we are always on an individual quest for our perfect runs.  Along with this quest, finding the right equipment to help us achieve this goal always seems to be a never-ending struggle.  Through trial and tribulation, we try different shoes, different socks, different clothes, even different types of water or sports drinks, all in an effort to get us where we want to be.
My quest for shoes has come to an end.  Finally, I have found the shoe and company for me, Mizuno.
Mizuno is well-known is plenty of other sports including golf, baseball, softball, and volleyball, and I have personally used and loved Mizuno products for baseball, but I had never tried or even looked into their running shoes.  That is totally my mistake, and I'm glad I've been able to right this wrong.  I advise all to look into the complete line of Mizuno running products on their website, http://www.mizunousa.com/running.  There you will find tons of great information on all of their running shoes, socks, and apparel, as well as great information about the technology that goes into the Mizuno products.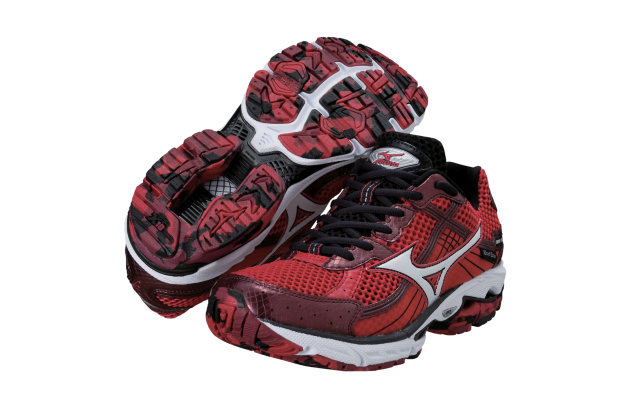 http://www.mizunousa.com/running/wave-rider-15
I was fortunate enough to get my hands on some of Mizuno's Limited Edition Wave Rider 15 shoes (pictured above), and they are outstanding in all aspects.  They look incredible, and the feel of the shoe on my feet is nothing I have come across before in a running shoe.  The picture above does not do the shoe justice in real life.  They are stunning to look at, and I've gotten several comments from friends already wanting to get their hands on a pair of the exact shoes.
I love one of Mizuno's descriptions of this shoe as it relates to Albert Einstein:
Albert Einstein believed that everything should be made as simple as possible, but not simpler. Perhaps he had a vision of the Wave Rider 15 – simple in form, yet based on the innovative technologies that elevate Mizuno products above the rest.
Mizuno does use some revolutionary technology in their shoes, the Mizuno Wave Technology, Smooth Ride Engineering, and Dynamotion Fit.  What Mizuno has put into their shoes with this technology is incredible, and it translates into a great shoe.  For more on what Mizuno's technology is all about, please check out their site, http://www.mizunousa.com/running/innovation.
I've run in all sorts of different brands, Nike, Reebok, On Running, Skechers, and at times, I thought I had found the shoe for me, only to find out, after no time at all, my feet were hurting more and more, and my body was breaking down.  They all have their own claim to fame, the Shox, Zig Tech, Cloud-tec, and sensors on the soles of the shoe to send waves to your brain to help improve your running form.  Some work, some don't.
Having not run in Mizuno running shoes before, I didn't know what to expect, so I expected the unexpected.  What I got was far more than I could have ever imagined.
The shoe seemed to fit my foot perfectly.  Having played baseball my entire life, a shoe with a nice, almost snug fit has been something I've longed for in a running shoe.  I hadn't found that until now.  They fit snug in the exact right places on my foot, had enough support in the heel and arch areas, and left enough room in the toe box area that my feet didn't feel cramped, especially at push-off during my running gait.  
I have taken several runs in the Mizuno Wave Rider 15, and I've tried different stride techniques from landing on my heel (not my preferred running method), to a more mid-foot strike running method (my preferred running style).  It didn't matter.  The shoe performed beautifully either way.  With the heel strike method, there was ample amount of cushioning and support in the shoe that the force was not felt in my joints, especially a jolting in my ankles and knees I've felt in other shoes.  With my preferred method of a mid-foot strike, even though these shoes are not exactly a minimalistic type of shoe, I couldn't tell the difference.  They gave me a great deal of spring and forward movement with each moment of forward push from stride to stride, and the landing was extremely comfortable to me.  I have not had a run yet in these shoes that I didn't feel just as refreshed throughout my entire body after the run as I did prior to the run.  My joints in my ankles and knees have had no aches or pains, and the best thing about these shoes it these are the first shoes I've ever worn that I've actually felt mold to my feet from run to run, and become even more comfortable as I log more miles in them.  It is a remarkable feeling.  I attribute that to the technology Mizuno has used in the shoe.
As I get further into my marathon training, I've glad to know I now have a reliable shoe to get me where I want to go.  I've felt faster, more energized, and have a revitalized vision as to my goal of finishing my first marathon, and along with the motivation my 6-year old son gives me (read more about it on my site, my son is my hero), I have no reason to doubt I can reach my full potential and meet the goal I set forth for myself and even surpass my expectations.
I can't wait to get my hands on some of Mizuno's other running shoes to add to my collection that I plan on having, as Mizuno will be the only company I will put on my feet to run in (both socks and shoes).  
If you have had the same problem I've had with finding the shoes for you, I highly recommend giving Mizuno a look.  I don't think you'll be disappointed.  I know I am not, and I'm proud to recommend and endorse their brand and even prouder to say that I will wear their shoe exclusively in all of my running endeavors.

I thank you all for your time in reading this review, and want to thank Mizuno for putting out such a great product.
Please follow Mizuno Running on Facebook and Twitter:
http://www.facebook.com/MizunoRunningNorthAmerica
@MizunoRunning (https://twitter.com/#!/Mizuno_Running)