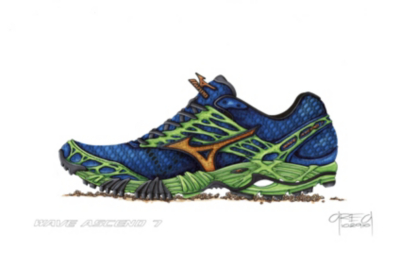 (photo courtesy of Mizuno Running)
Running4theMasses is updated for 10.12.12.
What a great artist rendering of the new shoe to my @MizunoRunning collection.  They should be here Monday, and I'll see them Tuesday night as I have to do a rare thing and travel for work Sunday through Tuesday.  I'll be down in Oklahoma, and I'll most definitely try to get some running in if at all possible, but it may be a hard thing to do with the busy schedule that is on tap.
I feel pretty lousy this week as I haven't been able to get out for any runs other than this past Sunday.  I'm most definitely going to make it a priority to try to get in as close to 10 miles on Saturday as I can, and next week, and the following week, really try to log some miles for the 28th of this month.  I know everyone says taper before a race, but I'm going to go against that thinking just this time as I've really got to get in some meaningful (for me) runs.
Best of luck to my man, Ryan, as he completes his quest this weekend with his final marathon.  Also, best of luck to all running the Double Mary this weekend here in Nebraska.  2 half marathons on consecutive days.  I wish I was running it, but maybe most definitely next year.